Age-related joint discomfort and stiffness start with a little chemical reaction machine contained in every cell in our body, an enzyme called 5-lipoxygenase – better known as 5-LOX.1
This enzyme does serve a purpose – it helps keep your immune system strong. But our bodies can go haywire and produce far too much of it. And instead of promoting good health, excess 5-LOX is responsible for a number of age-related health concerns. It attacks your tissues and organs, and can make you age before your time.2, 3
That's why we formulated Isoprex® with 12 of nature's best 5-Lox inhibitors. They help your body control the amount of 5-LOX it produces – and eliminate what it doesn't need. Each daily dose gives you the proven healing power of...
Boswellia
Tumeric
Hyaluronic acid
Bromelain
Hops Extract
Feverfew
Baikal Skullcap
Cat's Claw
Calcium
Vitamin D
Wild Oregano
Black Pepper
Best of all, Isoprex® is 100% RISK-FREE, backed by our 60-Day Money-Back Guarantee of Satisfaction. So you have nothing to lose. And when you act now, you can SAVE up to 33% off the regular price. Plus claim up to 3 Health Guides – a $59.85 value, FREE!
Don't spend the rest of your life suffering from age-related joint discomfort. Block it at the source with Isoprex® today!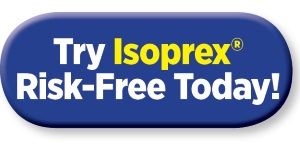 DISCLAIMER: Not intended to treat or cure any disease. Not intended to treat or mitigate chronic or disease related or sourced pain. Talk to your doctor or health care provider to determine if Isoprex™ is right for you and is safe to take with your medications. Do not start or stop any prescribed medication or treatment without first consulting your doctor or health care provider.