New and Improved Isoprex
Makes Your Joints Feel Young Again
The ingredients in New and Improved Isoprex have all been extensively studied. But natural eggshell membrane, NEM® dramatically advances joint wellness.
In one study on NEM®, subjects saw an astounding 73% reduction in joint discomfort and a 76% improvement in range of motion!i
Those changes are so great the improved range of motion amounted to…
Nearly 100% recovery of joint function.
Another study looked at what happened when taking NEM® longer term.
Hardly anyone was surprised at the fast results because they'd seen it in other studies:
By day 10, patients were already experiencing significant relief.
By day 30, discomfort and stiffness had fallen by a quarter.
But they were amazed at how such good results continued to get even better!
The longer that subjects took NEM, the more relief they felt.
By day 60, stiffness and discomfort had fallen even more.ii
Dramatically MORE flexibility and LESS joint discomfort!
| | |
| --- | --- |
| | |
| 44% Improvement | 76% Improvement |
NEM® natural eggshell membrane is a rich source of all 12 proteins and enzymes essential to healthy joints
Collagen, a protein that absorbs shocks in your joints, cushioning them to prevent the grinding of bone on bone.iii iv
Hyaluronic acid, a protein binding agent that is abundant in the synovial fluid that lubricates your joints.v
Elastin, a protein that gives strength and elasticity to connective tissue.
Glucosamine, which also helps restore the synovial fluid.vi
Chondroitin, a major component of connective tissues, including cartilage, bone, ligaments, and tendons.
Along with
Transforming growth factor-beta
Sialic acid
Dermatan sulfate
Desmosine
Isodesmosine
Ovotransferrin
Lysyl oxidase
Plus these natural ingredients to support joints
Curcuma longa root extract for better joint mobility
Curcuma longa is the plant that yields turmeric, a spice common in Indian food.
Turmeric itself is beneficial for joint health, but much of it is lost during digestion. That's why we increased the amount of curcumin to 50 mg, the same effective amount that has shown results in research trials. Turmeric halts the activation of destructive processes that attack your joints from within and neutralizes dangerous enzymes that can injure and cause discomfort to joints.
Baikal skullcap for calming joint tissues
This compound from the mint family inhibits enzymes and proteins that cause joint destruction.vii
One study found that Baikal skullcap shuts down the processes that damage the synovial fluid surrounding your joint cartilage by up to 60%.viii
Bromelain for breaking down harmful fibrin
Your body heals wounds by sealing them with a strong protective mesh called fibrin. But sometimes the process fails to turn off. Bromelain, an enzyme from pineapple, helps to break down harmful fibrin, eliminating that source of discomfort.
Cat's claw for fast relief
Cat's claw, a plant from the Amazon, has been proven in clinical studies to significantly reduce destructive synovial processes. And you could feel relief within the first week of taking it!ix
Feverfew for blocking joint-destroying enzymes
This amazing herb blocks six destructive enzymes, including COX-2, 5-LOX, PDE-3, and PDE-4 so your joints heal, returning them to comfort and full function.
Hops for blocking even more joint-destroying enzymes
Hops contain something called rho-iso-alpha acids, which are proven to block enzymes that include NF-kB, AP-1, and CREB.
Origanum vulgare
Also known as oregano, it acts on your CB1 and CB2 receptors which help control homeostasis (system balance), reactions to disease and pollutants, and fight or flight responses.
And these vital minerals:
Vitamin D, because there is a link between low vitamin D and joint deterioration
Calcium, the mineral at the heart of sturdy, healthy bones and joints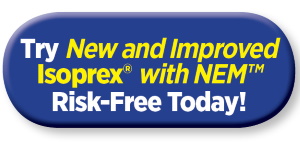 ---
i Ruff K et al, Eggshell membrane: A possible new natural therapeutic for joint and connective tissue disorders. Results from two open-label human clinical studies, Clinical Interventions in Aging, 2009; 4:235-240
ii Danesch U et al, NEM Brand Eggshell Membrane Effective in the Treatment of Pain Associated with Knee and Hip Osteoarthritis: Results from a Six Center, Open Label German Clinical Study, Journal of Arthritis, 2014; 3:136
iii Dar Q et al, Daily oral consumption of hydrolyzed type 1 collagen is chondroprotective and anti-inflammatory in murine posttraumatic osteoarthritis, PLoS One, 2017; 12(4):e0174705
iv Bello A et al, Collagen hydrolysate for the treatment of osteoarthritis and other joint disorders: a review of the literature, Current Medical Research and Opinion, 2006; 22(11):2221-32
v Bowman S et al, Recent advances in hyaluronic acid based therapy for osteoarthritis, Clinical and Translational Medicine, 2018; 7:6
vi Ogata T et al, Effects of glucosamine in patients with osteoarthritis of the knee: a systematic review and meta-analysis, Clinical Rheumatology, 2018; 37(9):2479-2487
vii Bitto A et al, Flavocoxid, a Nutraceutical Approach to Blunt Inflammatory Conditions, Mediators of Inflammation, 2014; 790851
viii Ibid
ix Piscoya J et al, Efficacy and safety of freeze-dried cat's claw in osteoarthritis of the knee: mechanisms of action of the species Uncariaguianensis, Inflammation Research, 2001; 50(9):442-8
DISCLAIMER: Not intended to treat or cure any disease. Not intended to treat or mitigate chronic or disease related or sourced pain. Talk to your doctor or health care provider to determine if Isoprex™ is right for you and is safe to take with your medications. Do not start or stop any prescribed medication or treatment without first consulting your doctor or health care provider.