Say goodbye to stiff, aching joints!
Isoprex® is scientifically formulated to work at the cellular level...
In recent years, scientists have discovered the source of age-related joint discomfort. And it all starts with a little-known enzyme found in every cell of our bodies. It's called 5-lipoxygenase, or 5-LOX. And it helps our immune system and inflammation response do their jobs.
But while this enzyme may be critical, it also has a dark side.
Modern diets can overload our bodies with arachidonic acid. So to remove it, they ramp up production of 5-LOX. However, before long we have too much 5-LOX. And because 5-LOX plays a critical role in the inflammation process, too much of it can result in a wide variety of health concerns. Especially those affecting our aging joints and ligaments.5
Doctors often prescribe non-steroidal anti-inflammatory drugs (NSAIDs) like aspirin, ibuprofen (Advil®, Motrin®), naproxen (Aleve®), and Celebrex® as the first line of defense. But these come with dangerous side effects.67
And while they might help block some of your pain, they only target the COX-1 and COX-2 enzymes.89 They do nothing about the 5-LOX enzyme. What's more, they can make things worse by triggering more 5-LOX production!10
That's where Isoprex® comes in...
Each of the ingredients in Isoprex® works a little differently. Together, they offer three ways to overcome joint discomfort. And all three are essential to maintaining good health and mobility — especially if you are nearing or over age 45.
First, they help increase joint comfort and movement.11
Next, they help promote and maintain healthy joints.12
And finally, they neutralize excess 5-LOX enzyme at the cellular level – helping stopping joint discomfort at the source.13
And unlike NSAIDs, Isoprex® contains natural, plant-based ingredients that work in harmony to prevent 5-LOX from triggering its harmful effects. Each has been clinically studied for its effectiveness. And the studies show they not only work, but they can even provide relief in as little as five days!14
These natural remedies work fast to help your body heal itself. So you can feel better than you have in years. And finally live life to its fullest!
Isoprex® Gives You 12 of Nature's
Most Powerful Protectors!
We formulated Isoprex® to be the most complete full body supplement available. Which is why it includes a full dozen of nature's most potent protectors. Including...
1. Boswellia: For joints, lungs, heart, and digestive system
Derived from the ancient Frankincense tree, extract of boswellia is perhaps the most powerful 5-LOX inhibitor of them all. It neutralizes the enzyme right at the cellular level. So it prevents the dangerous 5-LOX cascade from attacking your tissues, joints, and organs. And it can provide relief in as few as five days.15
And you won't find a more powerful form of boswellia than the one in Isoprex®. It contains a premium patented formulation called ApresFlex® that in clinical studies was shown to absorb into your cells 52% better than standard boswellia!16
2. Turmeric: For joints, heart, bones, digestion, and memory
Turmeric extract is another natural remedy renowned for supporting healthy joints. It neutralizes dangerous molecules that attack your immune system, including 5-LOX and COX-2. And that's not all. It also provides heart protection... aids in digestion... helps promote clear memory, and more.17, 18
3. Hyaluronic acid: Your joints' best friend
Hyaluronic acid doesn't just ease joint discomfort. It stimulates the production and regeneration of cartilage. So it literally helps rebuild your joints. And Isoprex® includes a clinically studied form called Hyal-Joint®. This patented blend also contains collagen and other glycosaminoglycans. So it's even better at lubricating joints and supporting the growth of healthy joint tissue.19
4. Bromelain: For your back, muscles and nasal passages
Bromelain is an enzyme found in the stem and fruit of the pineapple that helps your body break down proteins into peptides and amino acids. And numerous studies indicate it may play an important role in maintaining comfort for your back, muscles, and nasal passages. Plus, studies also suggest bromelain is also a potent anti-inflammatory agent.20
5. Hops: For Inflammation and Discomfort
Hops may be best known as an ingredient in beer. However, when researchers tested a concentrated extract, they found it effective at blocking COX-2 enzymes that are responsible for pain and inflammation. But unlike ibuprofen and other NSAIDs, hops extract only slightly inhibits COX-1. So you don't have to worry about ruining your stomach lining.21
6. Feverfew: For Additional Immune Support
Feverfew is another natural plant extract that blocks COX-2, but not COX-1. So like hops, it's safe for your digestive system. And feverfew doesn't stop there. It also blocks other enzymes that attack your immune system, including 5-LOX, PDE-3, and PDE-4.22, 23
7. Baikal skullcap: For Healthy Lungs and Brain
Baikal skullcap is a compound derived from the mint family that contains important flavonoids and alkaloids with antihistamine-like effects. It blocks COX-2 and 5-LOX enzymes, helping relieve joint discomfort. Plus, it helps promote healthy lungs and breathing. And studies also show Baikal skullcap may also promote healthy cognitive function.24, 25
8. Cat's claw: For Healthy Joints and Immune Support
Cat's claw has long been used by Amazon tribes for medicinal purposes. And modern science confirms the plant has a wide range health benefits. Especially in helping maintain joint health by supporting cartilage – the "shock absorber" that cushions between joints.26, 27
9. Calcium: For Strong Bones
Bones need calcium to stay strong. Especially as you age, when bone loss is most dramatic. When you don't get enough calcium, your body actually leaches it from your bones to serve vital functions in other systems. So ensuring you have enough is essential for maintaining proper bone and joint health.
10. Vitamin D3: For 5-LOX and Immune Support
Vitamin D3 inhibits your body's 5-LOX. It's closer to the natural form of vitamin D our bodies produce from sunlight than vitamin D2. And it's a whopping 3X more effective. What's more, vitamin D3 also plays a powerful role in supporting your immune system.28 So it's critical you get enough.
A study following 1,132 patients reported the number of people with vitamin D insufficiency and deficiency is "alarmingly high" among orthopedic patients – and included up to 93% of those suffering from musculoskeletal discomfort.29 While another study involving 360 patients found vitamin D improved discomfort in 95% of participants!30
11. Oregano: For "Remarkable" Relief
Scientists have discovered oregano delivers the same kind of relief agents found in Cannabis sativa, or marijuana (but without the "high"). And study after study has noted its outstanding benefits. Including a 2016 study published in The Pharma Innovation International Journal, which reported oregano leaf shows "remarkable COX-2 inhibition."31
12. Bioperine™: For Increased Absorption
The final active ingredient in Isoprex® is Bioperine™, a proprietary extract of black pepper. And while it may not directly impact joint discomfort like the others, it's just as important. Because it helps your body absorb other supplements and unlock more of their benefits.
Bioperine™ has been used to enhance bioavailability for more than two decades. And clinical studies show it can increase the absorption of supplemental nutrients by up to 60%!32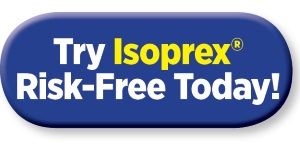 DISCLAIMER: Not intended to treat or cure any disease. Not intended to treat or mitigate chronic or disease related or sourced pain. Talk to your doctor or health care provider to determine if Isoprex™ is right for you and is safe to take with your medications. Do not start or stop any prescribed medication or treatment without first consulting your doctor or health care provider.