The most complete full-body supplement available!
Isoprex® is specially formulated to give you 12 of nature's most effective joint relievers and protectors. So you can enjoy fast and lasting relief!
Supplement Facts
Serving Size: 2 Tablet
Servings Per Container: 30
Amount Per Serving
Daily Value
Vitamin D (as cholecalciferol)
500UI
125%
Calcium (as calcium carbonate)
300 mg
30%
ApresFlex® boswellia resin extract†
50 mg
*
Hyal-Joint® natural hyaluronic acid complex††
40 mg
*
Isoprex™ proprietary blend:
465 mg
*
Baikal skullcap root extract, Feverfew leaf extract, Turmeric root powder and extract, Cat's claw bark extract, Hops extract (strobile), Bromelain (1600 GDU/g), Wild oregano leaf extract, Bioperine® black pepper extract†††
* Daily value not established.
Other ingredients: Microcrystalline cellulose, stearic acid, croscarmellose sodium, film coating (hypromellose, hydroxypropyl cellulose, polyethylene glycol), magnesium stearate and silica.
†

is a registered trademark of Laila Nutraceuticals exclusively licensed to PL Thomas – Laila Nutra LLC. U.S. patent #8,551,496 and other patents pending.
††

is a registered trademark of Bioiberrica, S.A.
†††Bioperine® is a registered trademark of Sabinsa Corporation.
Feel What it's Like to LIVE Again!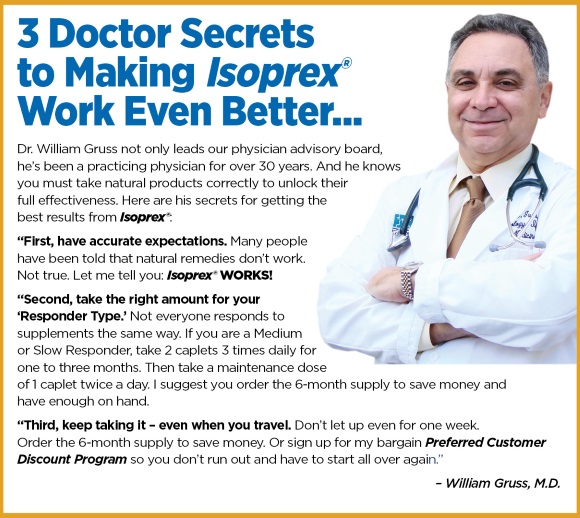 DISCLAIMER: Not intended to treat or cure any disease. Not intended to treat or mitigate chronic or disease related or sourced pain. Talk to your doctor or health care provider to determine if Isoprex™ is right for you and is safe to take with your medications. Do not start or stop any prescribed medication or treatment without first consulting your doctor or health care provider.