Dr. Gruss
About William S. Gruss, M.D.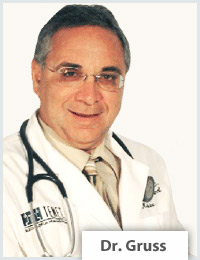 Dr. Gruss is a well-respected Internist and Cardiologist who specializes in preventive cardiac care.
Dr. Gruss strongly believes that with the right nutrients, diet and attitude, you can not only live longer, but you can stay healthy, active and live your life to the fullest well into your 80s and 90s.
Dr. Gruss is Board Certified in Internal Medicine and has been in private practice in Boca Raton, Florida since 1986, where the majority of his patients are over age 50. A graduate of the University of Maryland Medical School, Dr. Gruss did his residency and Fellowship in Cardiology at the prestigious Mt. Sinai Medical Center in Miami.
This product is prepared under exacting laboratory standards. Renown Health Products assures that this product has been manufactured in the U.S. in a GMP (Good Manufacturing Process) facility, using only advanced manufacturing and packaging systems. The product is delivered fresh to you, directly from us. Your comments are important to us. Please feel free to send us your thoughts, ideas or opinions. Your input always counts at Renown Health Products.
Respectfully,
Dr. William S Gruss MD and The Renown Health Products Team